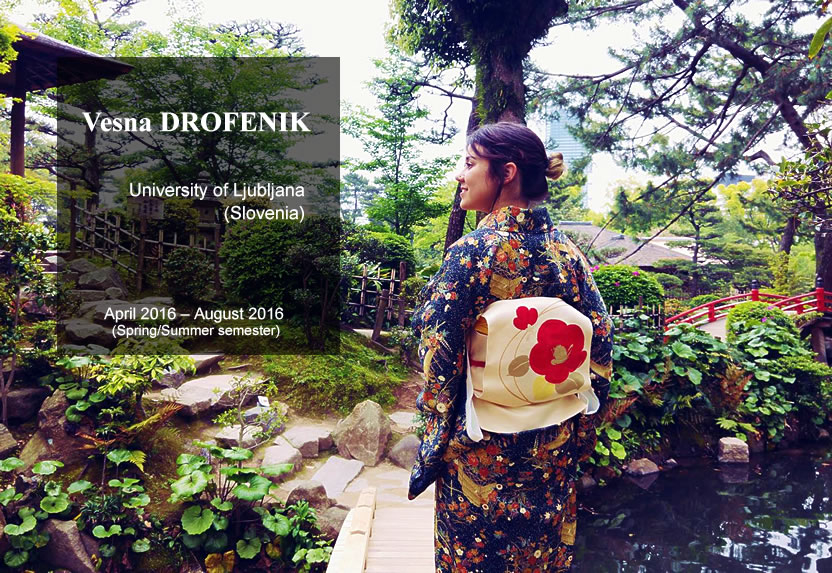 Vesna DROFENIK, University of Ljubljana
Slovenia
April 2016 – August 2016 (Spring/Summer semester)
01 Why did you choose HUE for study abroad?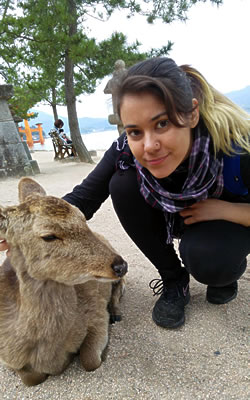 I always wanted to visit Japan ever since I was a little girl. My father used to go to Japan on business trips, and he would always bring me souvenirs. I finally got the chance to go when my university started offering HUE and two other schools in Tokyo and Akita. I chose HUE because although I was also interested in Tokyo, I really wanted to visit and live in Hiroshima since I've always loved reading about world history. I knew nothing about present day of Hiroshima and I was curious to see how it was rebuilt. The fact that life in Hiroshima is much more affordable than in Tokyo also helped. I was impressed by HUE's STEP program and the courses offered, since I had decided to write my bachelor's thesis about Japan.
02 How's (how was) your student life at HUE?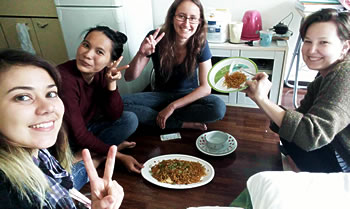 My life at HUE was great from the first day I arrived in Japan. I can say that I really experienced the proverbial Japanese hospitality! I didn't know a lot of Japanese, so I was really grateful for the assistance offered by HUE students in settling in Japan. I was able to practice my teaching skills in the English Language Hour and by tutoring a few students in English. The HUE students organised a lovely party with a delicious dinner at HUE's seminar house on Miyajima island. I'm happy to say that I have made a few friends, both Japanese and from other countries, that I know I will keep for life. I really enjoyed the classes at HUE as well, because I was really able to gain a wholesome understanding of the Japanese society and doing business in Japan.
03 What did you like the most in Hiroshima?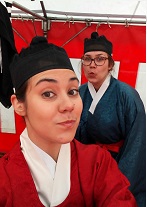 I was lucky to arrive in Hiroshima in early April, so I was able to enjoy viewing cherry blossom! I also loved visiting Miyajima island and Itsukushima shrine. I found people in Hiroshima to be very kind and respectful, and I really felt comfortable and safe living there. One of my favourite experiences was the Toukasan festival and being able to wear a "yukata", even though it rained all day! There are also many options for having fun and going out – karaoke, salsa bars, jazz clubs, great restaurants...
04 What is your plan after the completion of the exchange program?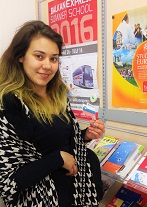 My semester at HUE was also my final semester of my bachelor's studies, so I am graduating within the next few weeks. I've already started working as a manager of a coworking space in my hometown of Ljubljana, Slovenia (http://accelerationbusinesscity.com/). I had already worked as an intern at the head office of the same company, ABC Accelerator (https://abc-accelerator.com/), before my exchange. In the future, I would like to eventually continue my studies after gaining some managerial experience. My thesis advisor was very impressed with the work I did at HUE, and she has suggested I think about starting an academic career at my home university.