The Department of Media Business develops the skills to play an active role at the forefront of media and business.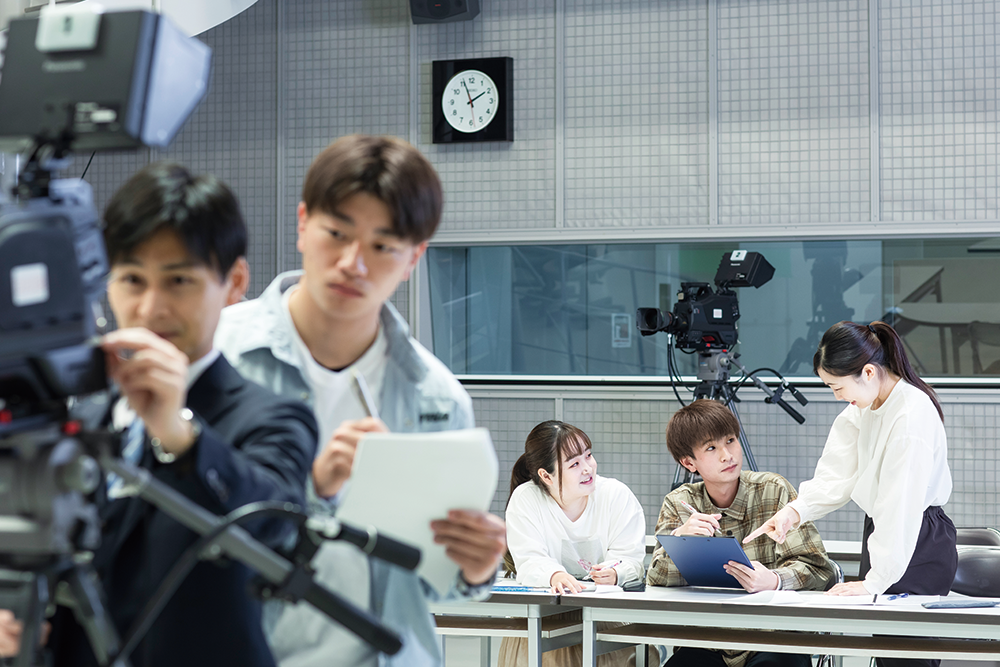 Developments in digital technology, such as the launch of higher definition 4K and 8K television broadcasting, the introduction of new visual techniques like AR (Augmented Reality), the popularization of the Internet and the growing universality of SNS (Social Networking Services), have opened up a host of opportunities in broadcasting, publishing and advertising. Students consider such questions as how the media can make ever richer communication possible, and examine business and media from a multifaceted viewpoint, exploring such areas as the design and content creation of video, music, and published materials, and media strategies used in business. Further, we foster the creative and production skills to make full use of new technology.
Degree awarded: Bachelor of Business Administration
Department of Media Business: Course Highlights
1. Master media use and apply it to business.
Business professionals who can take responsibility for a PR and advertising department and who can realize a brilliant plan, promotion, advertisement or design, are sought after not just in the world of media, but are in demand by general companies too. For that reason, a mastery of media use is essential. Our students acquire the skills and knowledge to use state-of-the-art media effectively in business.
2. Acquire the skills and knowledge to create media content.
We cultivate the ability to use media masterfully as a tool, develop planning skills, and foster graduates who are able to play an active part at the forefront of media in many fields. We offer a practical education which takes advantage of facilities such as our media content creation base, the Media Information Center, equipped with cutting edge digital broadcast facilities and ultra high speed communication equipment.
Name of Course
Introductory Courses
Introduction to Economy
Introduction to Business Management
Media Management in Business
Basic Courses
Media Studies
Communication
Media Marketing Theory
Media Economics
Visual Media Studies
Verbal & Vocal Presentation Studies
Web Media
Print Media
Image Editing
Video Editing
Contemporary Japanese EconomyⅠ (Domestic)
Contemporary Japanese EconomyⅡ (International)
Basic Study of MicroeconomicsⅠ
Basic Study of MacroeconomicsⅠ
Basic International Economics Ⅰ
Basic International Economics Ⅱ
Management Information
Networking and Digital Communications
Marketing Basics
Introduction to Video Production Course A
Introduction to Video Production Course B
Introduction to Design Creation
Advanced Courses
Name of Course
Courses on Business
Principles of Advertising
Corporate Communication Studies
Distribution System Ⅰ
Distribution System Ⅱ
Merchandising Ⅰ
Merchandising Ⅱ
Management Strategy
Introduction to Content Business Ⅰ
Introduction to Content Business Ⅱ
Special Lecture of Media Business B
Special Lecture of Media Business D
Special Lecture of Media Business F
Special Lecture of Media Business H
Special Lecture of Media Business I
Marketing theory
Service Marketing
Courses on Media/IT
Media Literacy
Media and Law
Modern Mass Media Studies
Communication and Culture
Information Society and the Related Issues
Multimedia
Event Theory
Sports Journalism
Sports Media
Web Content Production
Mobile Contents Production
Computer Graphics
Design Creation Application
Radio Production
Advanced Video Production
Commercial Message Production