AEON MALL Hiroshima-Gion
They have a supermarket, bakery, florist, liquor shop, bicycle shop, and toys, stationary, clothes, books, even the furnitures, and musical instrument shop. So many shops to fulfill your desire. Many affordable and essential items waiting for you.
DIAMOND CITY SOLEIL
The Chugoku/Shikoku region's biggest shopping mall with 65,000m2 of floor space. Includes over 200 stores in its three stories, as well as an 11-screen cinema complex. A great all-round facility for friends, lovers, and families.
Kamiyamachi SHAREO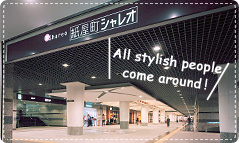 Shareo is the first underground mall in Hiroshima with 80 stores mainly for 20s' women's fashion and accessories. Located in the center of the city with convenient access to transport, you can enjoy shopping and exploring here even on rainy days.
Hondori Shotengai (Main street shopping district)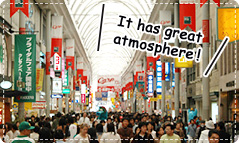 This 580-meter-long street dominates the retail life of the Chugoku and Shikoku region. With over 200 stores, it is popular with all types of shoppers. The variety of goods on offer is unparalleled, and it is only 10 minutes from Hiroshima station by tram: most convenient for after-school shoppers.
Miyajima of Aki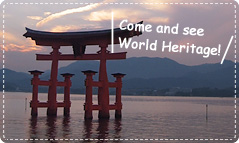 Miyajima in Aki, one of Japan's Three Beautiful Scenic Spots. Instantly identifiable by its red large torii shrine gate, Itsukushima shrine is designated as both a nationally important cultural property and a World Heritage site. The 16 meter high torii gate makes for an unforgettable sight. Mt. Misen, 530 meters above sea level, is also worth visiting for the spectacular view from the summit.

Yamato museum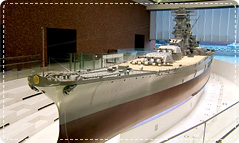 The Yamato Museum is situated in the city of Kure, where the famous battleship, "Yamato" was constructed. Taking pride of place here is a 26.3 meter miniature of the Yamato. Also included are realia such as a Zero fighter and the manned torpedoes "Kaiten", or special purpose submarine "Kairyu". They are poignant reminders of the importance of peace and the misery of war.
Shukkeien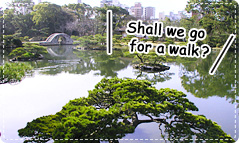 This garden was created by Nagaakira Asano, a former lord of Hiroshima, in 1620. It has been selected as one of the Best 100 Historic Gardens in Japan. Hillocks, valleys, bridges and a tea room are tastefully arranged around a pond containing islands of various sizes . About 200,000 visitors a year enjoy its condensed Japanesque beauty.
Hiroshima City Museum of Contemporary Art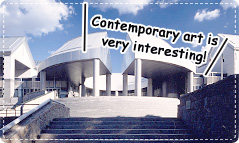 The Hiroshima City Museum of Contemporary Art is located in a park, a well-known cherry blossom viewing beauty spot, on the hills of Hijiyama overlooking the city. Designed by the architect, Kisho Kurokawa, it was Japan's very first public contemporary art museum. The Museum is focused on the post-war art, and houses, amongst others, works by Andy Warhol and Taro Okamoto. Hosting numerous exhibitions, the museum actively works to promote appreciation of contemporary art.
Hiroshima Museum of Art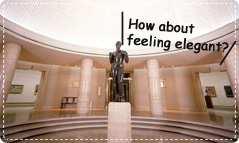 The Hiroshima Museum of Art opened in Central Park in the center of the city in 1978. It houses about 90 works by modern European masters, particularly the Impressionists, such as Monet, Renoir, Van Gough, Picasso, and Chagall. It holds on-going exhibitions and special exhibitions on regular basis

Monument for Hiroshima, City of Peace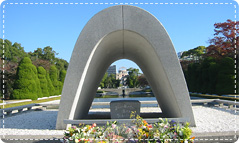 The Monument for Hiroshima, City of Peace(Cenotaph for Atomic Bomb Victims) was unveiled on August 6, 1952. A list bearing the names of the victims is entombed in the central stone coffin which is inscribed with the words, "Let all the souls here rest in peace, For we shall not repeat the evil": being an appeal for all who visit to pray for the souls of the victims as well as a statement in renunciation of war.
A-Bomb Dome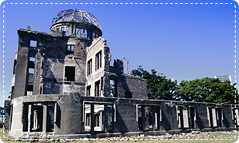 What used to be the modern Hiroshima Prefectural Industry Promotion Hall is now a disfigured testament to the city's destruction by an atomic bomb. After the war, it was determined that it would be preserved as a symbol both of the disaster and the wish for peace. After several renovations, it became an official national landmark building in 1995 and in the following year, 1996, was named a World Heritage site by UNESCO.
Hiroshima City Cinematographic and audio-visual Library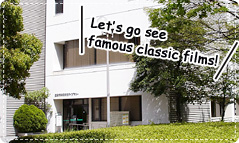 The library has an outstanding historical collection of Hiroshima-related films, and approximately 600 films on the theme of peace. It includes a special 169-seat facility for showing those films as well as a collection of videocassettes, records, CDs and cassettes for the individual to enjoy.
Hiroshima Castle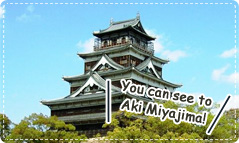 Hiroshima Castle, built in 1589 by Terumoto Mohri, is a beautiful site surrounded by water and greenery. The castle tower houses a permanent exhibition about the castle town of Hiroshima, the lives of its citizens, as well as a collection of ancient weapons and armor. They hold about 8 special exhibitions a year and have just opened a section where you can actually try armor on. On a sunny day, you can enjoy the view of Miyajima in Aki from the observation room at the top of the building.