The Department of Economics aims to develop logical thinking, analytical ability and expertise in the field of economics for the creation of a richer society.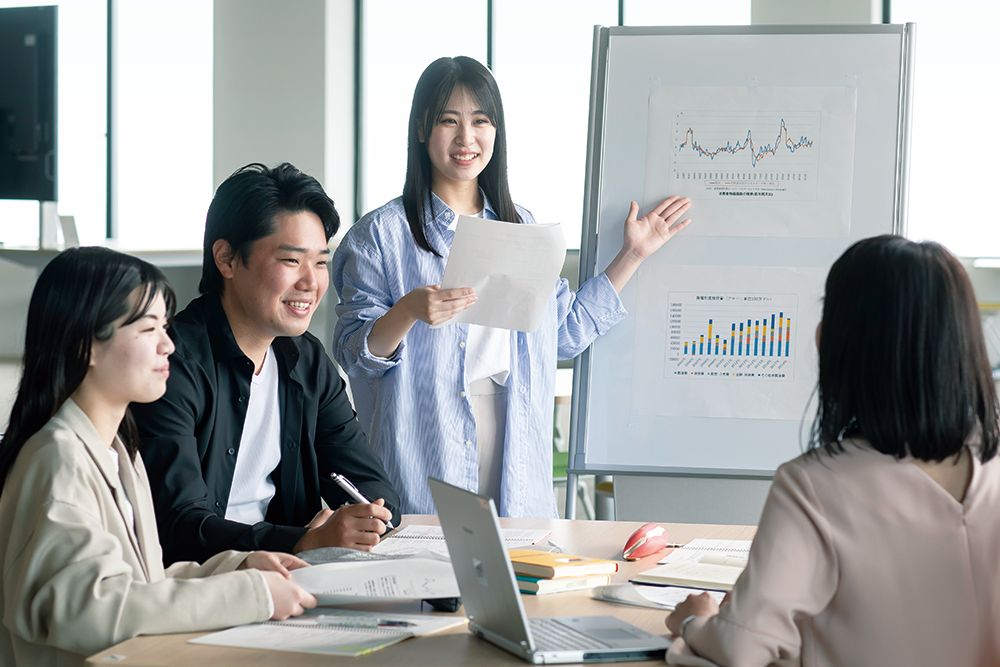 Economics is the study of the mechanisms behind various economic activities. These activities range from the behavior of consumers and companies involved in goods and services, the role of the government and what makes an effective economic policy, to economic relations with foreign countries. Economics is a global discipline, the study of which teaches logical thinking and analytical ability that enable us to explain current societal issues from a scientific viewpoint. Our Department of Economics ensures that its graduates are equipped with an understanding of economic theory and the ability to put it into practice, skills which are highly sought after in the business world.
Degree awarded: Bachelor of Economics
Department of Economics: Course Highlights
1. Study the cutting edge of business directly from top executives.
In our special regional lecture series we invite top business executives and others currently enjoying success in the Chugoku and Shikoku regions to participate as guest lecturers. By hearing about their experiences of issues and initiatives present in different fields, our students are able to study the reality of each industry and the trends at the cutting edge of business, and enhance their thinking about the current and future local economic situation.
2. Attend classes in Business English to take up globally active roles.
The number of companies establishing manufacturing bases abroad in Asia and elsewhere is increasing. Hiroshima is itself an international city, host to many visitors from overseas. Against this background, we offer a curriculum in which our students can naturally be exposed to English in order for them to gain practical English communication abilities. We aim to foster graduates who can interact and engage with foreign businesses and foreigners.
Name of Course
Introductory Courses
Introduction to Economy
Introduction to Business Management
Introduction to Finance
Basic Courses
Basic Study of MicroeconomicsⅠ
Basic Study of MicroeconomicsⅡ
Basic Study of MacroeconomicsⅠ
Basic Study of MacroeconomicsⅡ
Basic International Economics Ⅰ
Basic International Economics Ⅱ
Fundamental Mathematics For Economics Ⅰ
Fundamental Mathematics For Economics Ⅱ
Basic Course on the History of Economics
Basic Study of the Economic History Ⅰ
Basic Study of the Economic History Ⅱ
Basic Study of Economic Policy
Basic Study of Social Policy
Public Finance I
Public Finance Ⅱ
Finance I
Finance Ⅱ
Basic Study of Economic Statistics
Fundamental Economic Data Processing for Statistics
Contemporary Japanese EconomyⅠ (Domestic)
Contemporary Japanese EconomyⅡ (International)
Advanced Courses
Name of Course
Courses on Comprehensive Economics
Microeconomics
Macroeconomics
Economic Fluctuation
Practical Business Cycle Analysis
History of Economics
Japanese Economic History I
Japanese Economic History Ⅱ
European Economic History I
European Economic History Ⅱ
History of Daily Life Economy
Courses on International Economy
International Trade
International Finance
Development Economics
International Monetary System
Chinese economy
ASEAN Economy
EU Economy
Courses on Science
Economic Policy
Monetary Policy
Public Policy
Tax System
Public Economics
The Practice of Public Economics
Industrial Organization
Regional Economics
Practical Studies on Regional Economics
Economic Geography
Labor Economics I
Labor Economics Ⅱ
Social Security I
Social Security Ⅱ
Courses on Finance/Information
Financial Systems
Current Corporate Finance
Practice of financial analysis
Practice of money control (mainly stock investment)
Global Financial Markets
Statistics Ⅱ
Econometrics I
Econometrics Ⅱ
Data Processing for Statistics
Name of Course
Courses taught in English
Basic Principles of Economics
Japanese Economy
Japanese Financial System
Region-related Courses
Actual state of making things at Hiroshima area
Chugoku-Shikoku Regional Economic and Finance Conditions
Special Lectures on Chugoku-and Shikoku-Districts