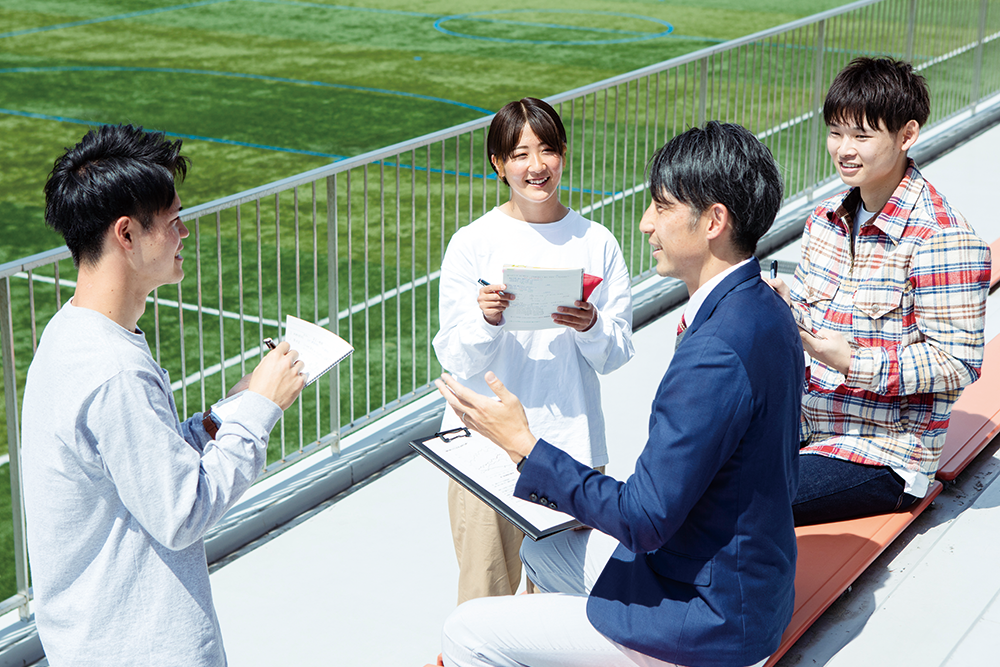 Students enrolled in the Department of Sport Business Administration will study a combination of theory and practice which will enable them to actively participate in a wide range of fields.
We foster 'business professionals who understand sport': graduates who have a balanced understanding of the possibilities of sport and the know-how of business, and are able to actively participate in society. To make this happen, our curriculum in the Department of Sport Business Administration offers the unique feature of combined business administration and physical education courses, with a background in basic economics. We aim to produce personnel with both the ability to plan and the ability to take action, through an ever more effective practical education that does not place disproportionate emphasis on theoretical education, but actively incorporates practical education based on experience in sport-related companies and organizations etc.
Degree awarded: Bachelor of Sport Business Administration
Department of Sport Business Administration: Course Highlights
1. A practical education through sport-related workplace experience.
We have constructed our curriculum with an emphasis on the practical, with guidance from instructors with long careers at the forefront of the sports business world, such as in the big clubs of the J-League. In order to foster personnel who are able to manage sports organizations and groups, and plan and prepare programs for sports events, we have designed our course with plenty of opportunities for experience-based training on-site at sports or event venues.
2. Support for qualifications essential for your career aspirations.
At community sporting events, people with the knowledge and practical abilities to safely provide guidance for sports and exercise are highly sought after. And, whatever the job you would like to pursue in the future, there's always a qualification that would be advantageous. With our strong curriculum, our department supports students who aim to obtain qualifications they will use when they graduate and go out into the world.
Name of Course
Introductory Courses
Introduction to Economy
Introduction to Business Management
Introduction of Sport Business
The 3rd class of bookkeeping Ⅰ
Basic Courses
Sporting Culture
Sport Management
Sports Industry Theory
Sport Marketing
Sports English
Management Theory
Marketing Basics
Basics of Accounting
Basic Economics
Basic Study of Economic Policy
Olympics and Peace
Sport Culture in Japan
The World`s Top Athletes from Japan
Major Sports in Japan
Advanced Courses
Name of Course
Courses on Economics/Business
Community Business Theory
Event Theory
Sports Finance Theory
Professional Sports Theory
Business in Professional Sports
Sports Organization Theory
Sports Journalism
Sports Media
International Economics
Sport Statistics
Asian Economics
Sport Economics
Organizational Management
Management Strategy
Financial Accounting
Management Analysis
Managerial Accounting
Sport-related Courses
Sociology of sport
Sport and Community
Theory of Sports Coaching
Theory of Sports Training
Sports Psychology
Sport Physiology
Sports Biomechanics
Sports Medicine
Sports Nutrition Science
Administration of First Aid
Health Exercise Programs
Recreational Sports
Practical Seminars
Sports Instruction Seminar
Practice of Sports Training
Sport Physiology Experiments
Practice in Sports Trainer ship
Practice of Recreational Sports I (Game)
Recreation SportsⅡ(Camp)
Recreation SportsⅢ(Snow Sports)
Sports Trainers Practice
Seminar in Regional Sports Contribution
Sports Business Seminar I
Sports Business Seminar II
Sport Management Practicum
Sport Business TourⅠ(Japan)
Sport Business Tour Ⅱ(International)
Team Building
Team Management