In addition to our unique facilities - the library, the Meitokukan, the Media Information Center and the Koudoukan - we also have small and medium-sized lecture rooms, research rooms and seminar rooms in the Main Building and Buildings No. 1-3, and large lecture rooms, including a fan-shaped lecture theater, in Building No. 6.
There is a graduate floor, with facilities such as graduate student offices and a graduate library in the Student Union LIBRE.
Academic Commons Meitokukan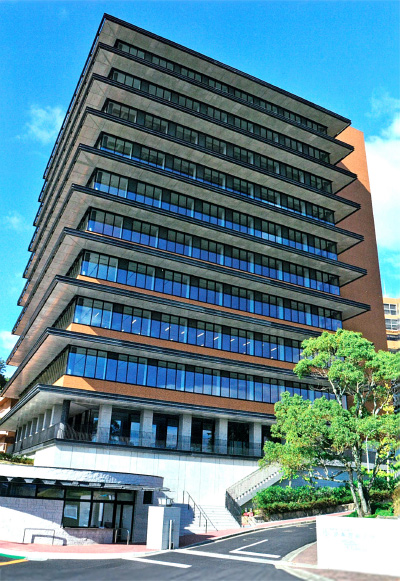 This ten-story building is the largest Academic Commons in Japan, the entirety of which is dedicated to our students. It contains many resources that encourage the free creation of ideas, and serves as a place where students can gain the motivation to study independently, and polish their ability to express themselves.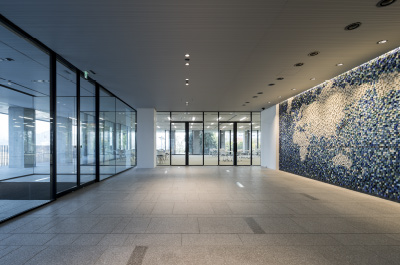 Entrance, 1F

In the entrance lobby, a monument welcomes students with the message 'step into the wider world'.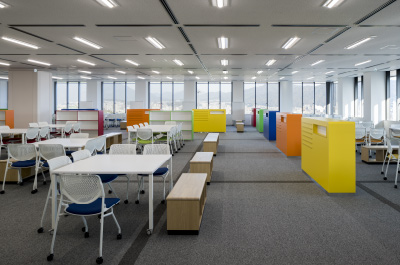 Student Commons, 2-4F

There are 24 partitioned areas, 'seminar spaces', separated by benches, on each of these floors, creating a wide, comfortable area with loose connections between different seminars.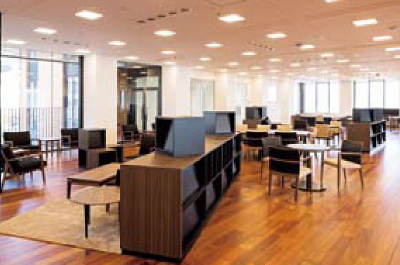 WORLD Café, 5F

Here, students can browse foreign magazines and photo books, building up their mental image of other countries while enjoying a sip of coffee.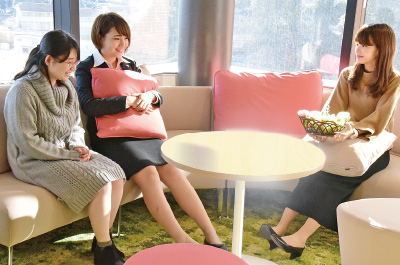 KOMACHI Room, 6F

Female students can use this space freely for self-study and communication, or as a place for refreshment.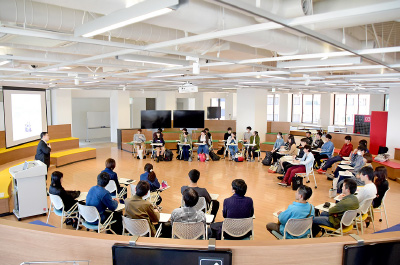 Presentation Court, 7F

In this circular 'court', large-scale presentations can be delivered.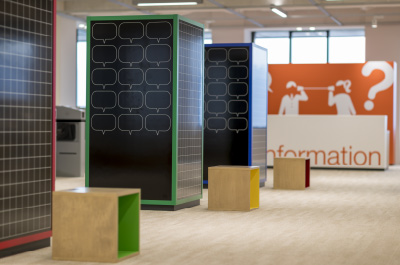 Message Board, 7F

These square blackboard pillars are 180cm tall, and serve as places to display documents, and write messages.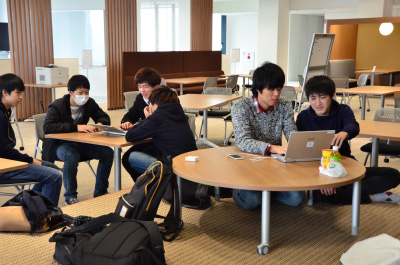 KO-A-GA-Link, 8F

This is a learning area where students take off their shoes and sit, stimulating new ideas by changing their line of sight and posture.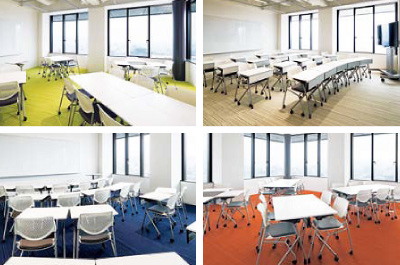 Workshop Room

This is an optimal space for students to deepen their ideas and hold group discussions with friends.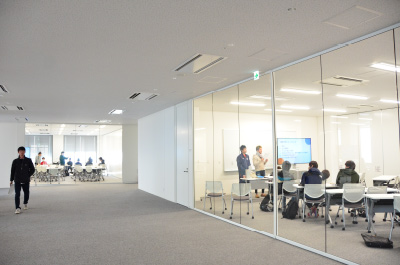 Learning & Discussion Floor, 9-10F

There are small and medium-sized discussion rooms on this floor; each room is completely glass-walled, so that students can see what is happening in another room, or across the entire floor. This space is also ideal for active learning classes.
Library
Our university library is one of the largest in the Chugoku and Shikoku regions, as well a leading state-of-the-art education and research hub.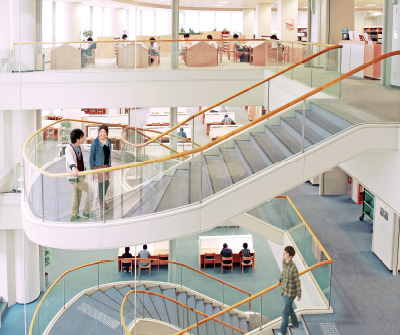 It is a four-story building with two basement levels that supports both academic research and education. Inside, there is shelf-space for over half a million books, and 450 desks. As well as being able to search the library's databases from the computer terminals, students can also connect to the Internet on their laptops using the OA outlets and high-speed wireless LAN available throughout the facility. The library is also open to the general public.
Browsing corner / Newspaper corner

Magazines are available in the Browsing Corner, and a variety of newspapers, including national and local newspapers, and specialist economic publications etc., are provided in the Newspaper Corner.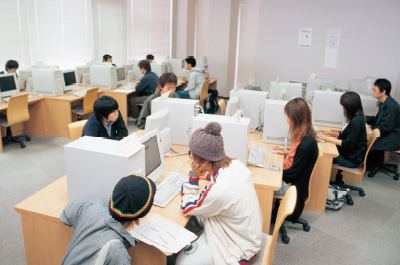 PC corner

Using the computers installed on the first and third floors, it is possible to freely access research and academic resources from around the world.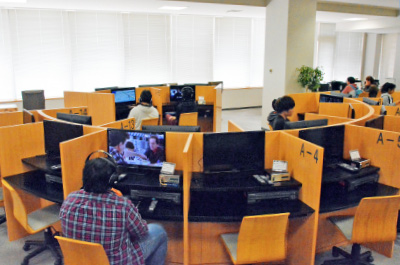 AV booth / LL room

There are also AV booths, where audiovisual materials such as videos and DVDs can be viewed, and the LL room for language study, where students can speak freely.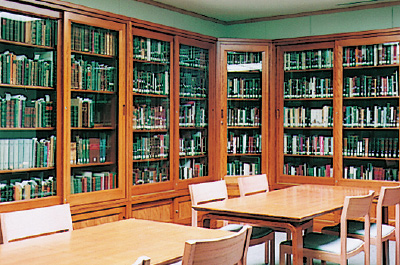 'A Genealogy of Knowledge' Rare Book Collection

The library holds a collection of classic works from around the world, including first editions of Adam Smith's The Wealth of Nations, Rousseau's Du contrat social ou Principes du droit politique (The Social Contract), and works by Copernicus, Galileo, and Newton.
Koudoukan
This building is a groundbreaking study space, available for use 24 hours a day.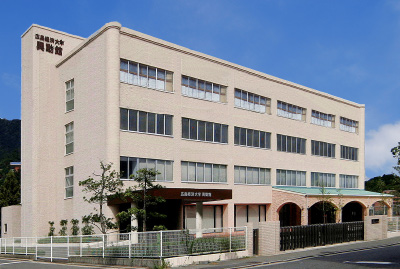 The Koudoukan, established near the campus, is the main facility In fostering human resources. Inside, there are seminar rooms for the Koudoukan Course, and space dedicated to the Koudoukan Project. The building is available for use by students and faculty members 24 hours a day, for projects, circles, and seminar-related activities. (Application required.) In addition, wireless LAN is available.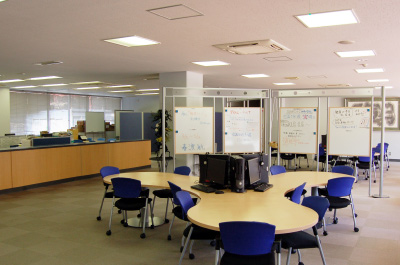 Lobby Counter

Six computers are freely available for use. As well as receiving consultation for projects, students can also borrow a variety of equipment and devices to support their academic activities.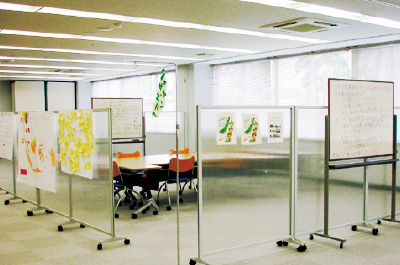 Project Space

This space is a hub for each Koudoukan Project; it has 20 available computers, and is equipped with booths dedicated to each project.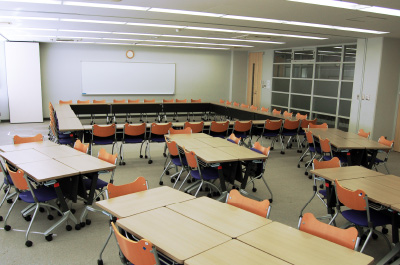 Seminar Rooms

There are eight seminar rooms used for classes for the Koudoukan Course. Moveable desks and chairs mean that these spaces can accommodate many different class layouts.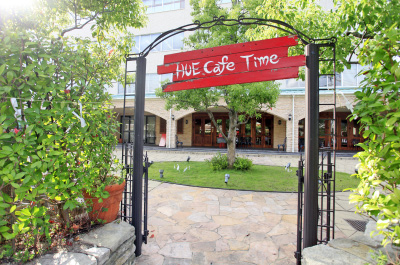 HUE Café Time

This student-run café is open to people from the local community. The students involved in the café management project take on the challenge of running the café independently, and gaining knowledge on how to operate a business.
Media Information Center
This enriched facility is designed for the study of media and information technology.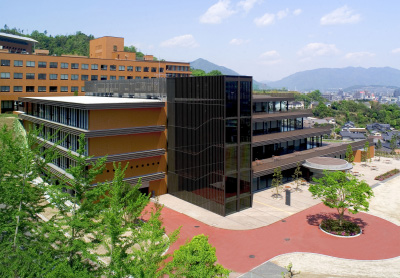 In addition to approximately 800 computers, this building has a studio equipped with full high-definition equipment, essential for the study of media. This facility is the nerve center of the on-campus network, and computer education.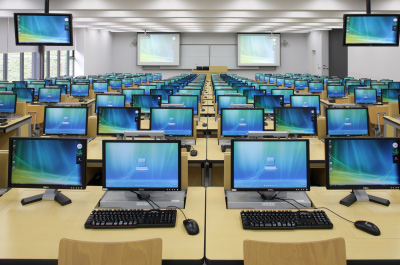 Large Classroom

This room is equipped with 156 computers, as well as diverse AV equipment. It is possible for large numbers of people to use the computers at the same time.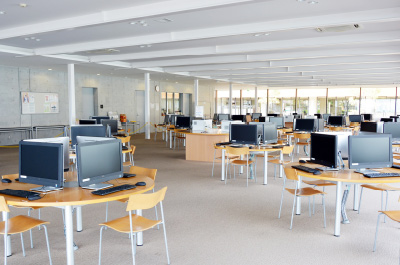 PC space

100 computers and 8 printers are available for students to use freely for internet, e-mail, essay writing, and more.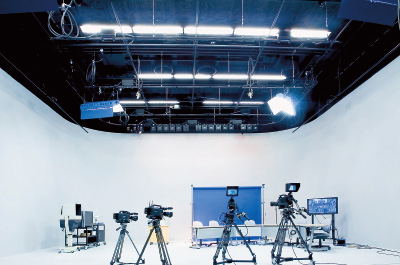 Studio A

This studio offers full high-definition digital images, with facilities for recording and editing, as well as being available for basic practice.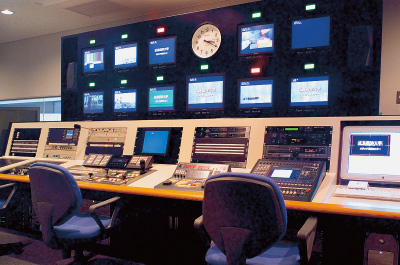 Control Room

In this room, students are able to use the digital equipment to create their own content.
Building no. 1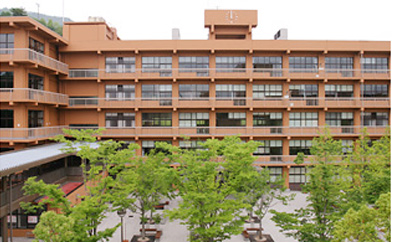 Restaurant "Yamanoue 10"
Teacher Training Support Room

This building is an education zone with classrooms of various sizes. There is a student cafeteria on the first floor, and the courtyard between Building No. 1 and the Main Building is a space where students can relax, and enjoy eating lunch under blue skies when the weather is fine.
Building no. 2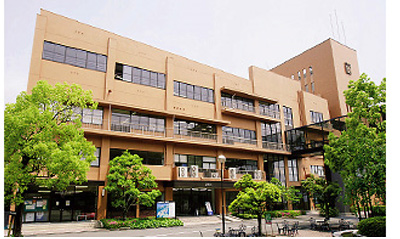 As well as a large lecture hall capable of accommodating approximately 650 people, this building has facilities such as LL and AV lecture rooms, and the Career Center.
Building no. 3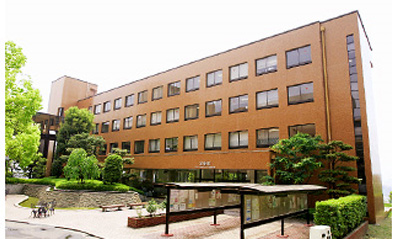 Building No. 3 has 77 offices for faculty, a part-time faculty room and a faculty lounge. The Academic Affairs Center on the first floor offers students a variety of services.
Building no. 6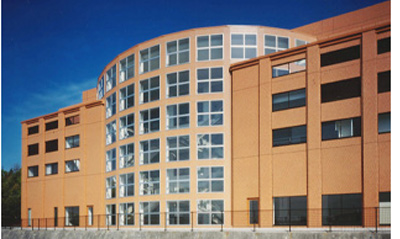 Adjacent to the Student Union LIBRE building, Building No. 6 is dedicated to lectures, with five large lecture rooms including a fan-shaped lecture theater that can hold 700 people. There are four large lecture rooms that can comfortably seat 500 people on the first and second floors, equipped with the latest AV equipment.
Administrative Building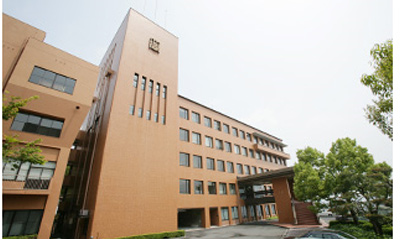 This building functions as the nerve center of HUE, housing the Corporate Office, Office of General Affairs, Admissions / Public Relations Office and Institute for Regional Economics, which are at the core of school operations. There are 22 research rooms and a conference room on the fourth flour, a seminar room on the third, and a Health Center and student-counseling center on the first floor.